The Jimny is a long standing exciting off roader that plays a significant role in Suzuki's past, present and undoubtedly future. We will explore the Jimny's role in Suzuki's more than 50 years of history, with its 4×4 vehicle line-up and how the brand has evolved.
It all began with a simple philosophy: "taking places that cars could not go in the past", Suzuki wanted to "design a vehicle that can take on the rough stuff". In 1968, Suzuki bought the right to manufacture a little 4X4 named the Hopestar ON360, due to the company's inability to produce to scale. This was the design base for the first generation Jimny, named the LJ10. Its engine was upgraded to a two stroke, 2-cylinder 359cc unit producing 18.39KW (25hp). Its off-road capabilities were down to its short wheelbase, four speed manual gearbox and two-speed transfer case setup.
1972 introduced the water-cooled engine to the LJ10, and the LJ20 was born. Having originally been a soft top off-roader, the introduction of a hard top model was well received. The upgraded four seat option came in 1975 too. Completing the line-up of soft top, hard top and pick up versions.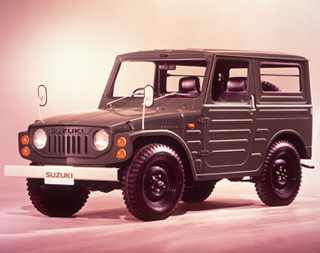 The Australian market during the same year was provided with the LJ50, a 550cc three-cylinder model. Moving its spare wheel from inside to outside, with the two rear passenger seats facing each other. The new LJ80 was then designed. Being a much larger model introduced in 1978, it sold well in Australia. With an 800cc unit capable of more power (41hp), it was also water cooled and a more reliable unit.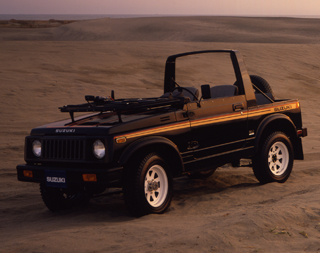 Heading into the 80's and the second generation Jimny was developed, named the SJ410. Better handling for road driving, it now had the best of both – on and off-road ability. A larger four-cylinder 970cc engine was introduced as the vehicle became heavier, producing 38kW (51hp) and 80Nm of torque. The new design was fashionable and had improved rear suspension with gas dampers (a better setup for coping with steep gradients). A new interior and engine once more, with 1000cc producing 45hp. This meant it could beat its rivals when hitting the rough stuff, becoming a huge success enabling Suzuki to produce more models.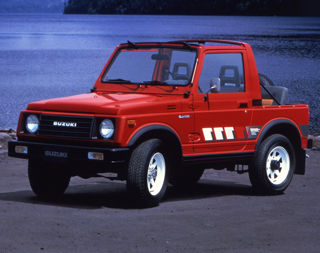 The new SJ413 again had an upgraded powerplant with 1.3L producing 66hp, with a more refined feel and introduced the first 5-speed gearbox for Suzuki's 4WD's. Soon after, Suzuki developed the Vitara which was a much larger, more luxury and expensive off-roader. Using the engineering influences of its previous Jimny SJ family, it had a part time 4WD system and two speed transfer box with a 1.6L engine, plus the introduction of power steering.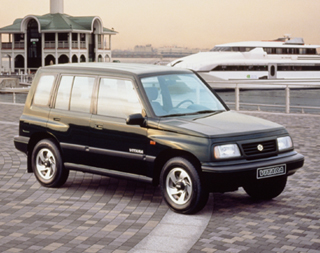 As we hit the 90's, the Vitara range expanded to a longer 5-door version. As sales of the Jimny rocketed, Suzuki became the dominant force in this space for Japanese off-roaders. The 1995 model of the Vitara added a 2.0L V6 to accommodate the larger family 4×4 market. Offering a bold, more rounded design, away from the stylistic icon of the Jimny. It was a courageous move that some considered unnecessary.
In the background, Suzuki were developing the new generation Jimny, as the SJ413 model ran for over 15 years. It gave way to the newly designed Jimny that most car enthusiasts are most familiar with. Starting a new generation of compact off-roaders. Upgraded shock absorbers with coils springs and longer travel provided a comfortable experience in any scenario. A ladder frame chassis with air locking hubs were the foundation of its design, to allow two- and four-wheel drive switchover to take place during driving.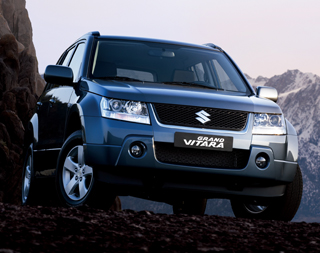 As the Jimny became a worldwide success, Suzuki worked on the second generation Vitara and Grand Vitara introducing these in 2005. Alongside a luxury offering in the form of the XL7 in 2006 and the medium sized SUV, the SX4. With a sophisticated electronic 4WD system it had configurable driving modes. Again, using the Jimnys unique drivetrain design, it was the basis for the SX4 S-CROSS when released in 2013 for 4WD performance and 'Allgrip' variants.
The Jimny was changed in 2009 to a hard top only model. With a facelift in 2013 for a more aggressive grille, front bumper, and hood scoop. Hugely popular with the custom car scene, Jimny owners deem this the most popular to upgrade. With performance suspension, front bull bars, roof racks and technology installed for any off-road adventuring in the bush.
As the Jimnys long 20-year lifespan in its third generation, sales continued as other new models were being introduced in the background. Such as the third generation Vitara in 2014, highlighting their dominance in the off-road space.
Now with emissions standards changing and the opposite growth in SUV popularity, the new Vitara promoted economical engines that combined with its 4wd system to provide a safe, low-cost solution for families driving in more extreme conditions. Whilst offering a high driving position and updated technologies to move along with the times.
Allgrip was introduced as a name brand with three major categories. Allgrip Auto – for snowy and loose gripped surfaces with a viscous pairing 4WD system, Allgrip Select – electronic controlled system with four driving modes (auto, sport, snow, and lock) as the best all-rounder for on and off-road and Allgrip Pro – for all abilities off-road, its part time 4WD system with a reduction gear meant a driver can go "beyond limits".
The new ignis 4WD with Allgrip Pro brought Suzuki's technology in small cars fully into the 21st century. With the long awaited fourth generation Jimny introduced in 2018, modernising Suzuki's car of the century. Still holding true to its roots of a compact off-roader. Its 1.5L engine with 75kW, combined with the Allgrip Pro system meant it was the most popular choice for enthusiasts. Part time differential and 4WD system provided so much capability. The original ladder frame chassis remained, but upgraded technology included a touch screen, lane departure warning, automatic braking and high beam assist provided excellent safety and entertainment features to the well-loved off roader.