The Jimny is a staple for fun and uncomplicated off-roading. Suzuki built this hugely popular car first back in 1970. Now in its fourth generation we will explore its successful past, present, and undoubtedly future.
It all began with a simple philosophy: "taking places that cars could not go in the past", Suzuki wanted to "design a vehicle that can take on the rough stuff". In 1968, the Jimny's life did not start as a Suzuki. The Japanese car maker purchased the right to manufacture a little 4X4 – named the Hopestar ON360. Hopestar required the expertise from Suzuki to mass produce their small off-roader to appeal to a wider audience at a lower price.
First Generation, LJ10 – 1970-1981
Using the ON360 as a base for the first generation Jimny in 1970. Suzuki named it the LJ10. Its engine was upgraded from a 359cc air cooled unit from Mitsubishi to a two stroke, 2-cylinder 359cc unit producing 18.39KW (25hp). Its mighty capabilities were down to its short wheelbase, four speed manual gearbox and two-speed transfer case setup with part-time four-wheel drive.
The development continued in 1972, where introduced was the water-cooled engine to the line-up, notably named the LJ20. Having originally been a soft top off-roader, the new introduction of a hard top model was well received. An upgraded four seat option came in 1975, to create the full line-up of soft top, hard top and pick up versions of the first generation Jimny. In Australia, the LJ50 was imported during the same year. A 550cc three-cylinder model. It had its spare wheel moved from inside to outside, with the two rear passenger seats that faced each other.
The new LJ80 was the next development from Suzuki. Being a much larger model introduced in 1978, it sold well in Australia. With an 800cc unit capable of more power (41hp), it was also water cooled and an overall more reliable unit to cope with the heat of the outback.
Second Generation, SJ410 – 1981-1998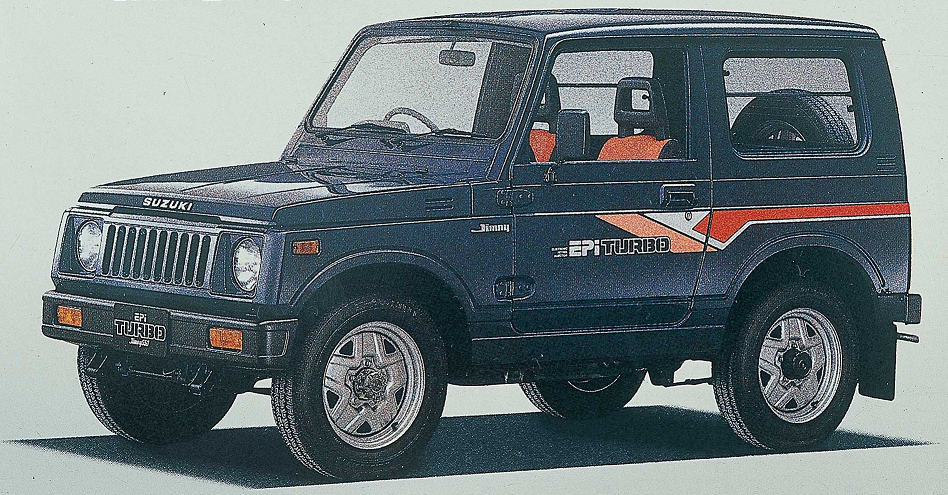 Heading into the 80's, the second generation Jimny was developed. Named the SJ410, a new chassis had been designed for better handling for on-road driving. The larger four-cylinder 970cc engine was required because of the larger and sturdier setup of this generation. Producing 38kW (51hp) and 80Nm of torque. The new design was more up to date, and the improved rear suspension with gas dampers meant an enhanced structure for handling hills. A new interior and once more, a new engine was developed. This time with 1000cc producing 45hp. Meaning it could outlast its rivals when hitting the rough stuff.
The new SJ413 introduced in 1986 had an upgraded powerplant, 1.3L in fact, producing 66hp. With a more refined feel, and the first introduction of a 5-speed manual gearbox for Suzuki's 4WD's. As the SJ413 ran for over 15 years, Suzuki were developing the new generation in the background of its huge success.
Third Generation, JB23/JB33/JB43/JB53 – 1998-2009.
The most familiar Jimny that most car enthusiasts would think of. Starting a new generation of compact off-roaders. This third generation had upgraded shock absorbers with coils springs and longer travel. They provided a comfortable experience in a range of environments. A ladder frame chassis with air locking hubs were the foundation of its design. Allowing the switching of two and four-wheel drive, even whilst moving.
In 2009, the decision from Suzuki meant that a hard top only model was to be produced. Which followed with a facelift in 2013, for a more aggressive grille, front bumper, and added hood scoop. Nowadays it is popular with the custom car scene, with Jimny owners upgrading front bull bars, suspension, roof racks and technology for off-road adventures in the bush.
Fourth Generation, JB64W/JB74W – 2018-present
The anticipated fourth generation Jimny was introduced in 2018. With a host of modern design features, whilst still holding true to its roots of a compact fun off-roader. Its 1.5L engine with 75kW, combined with Suzuki's new Allgrip Pro system meant it is more capable than ever. This was due to its part time differential and 4WD system, along with the original ladder frame chassis. But the fourth gen has the upgraded technology it desperately needed. This includes a touch screen, lane departure warning, automatic braking, and high beam assist. All providing excellent safety and entertainment features to the well-loved off roader.
If you are interested in further information and details on the history of Suzuki Jimny, you can check out the encyclopedia published by SSC Japan in our store: Suzuki Jimny Encyclopedia JIMNY DATA FILE .